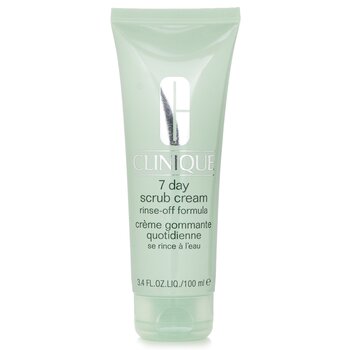 Clinique 7 Day Scrub Cream Rinse Off Formula 100ml/3.4oz
Fine exfoliating cream
Contains
an exciting new choice advantage
De-flakes, polishes, clears pores, refines
Suitable for all skin types
NZ$
65.90
Free Shipping Inc. GST

Add to cart
100% GENUINE Products.
FREE SHIPPING by Post Haste with tracking. Delivery usually takes 5-10 days. Signature is required upon delivery



30 days money back guarantee. If there is any problems with the products please send us an email and we will provide a solution to you, guaranteed.

We use PayPal to securely process payments including credit card payments.
Your purchase is protected by PayPal buyer protection. If you don't receive the products you ordered you can claim your money back.

We also accept direct bank deposit. We bank with ANZ Bank New Zealand. Please contact us for bank account details if you would like to pay using this method.
I've got myself a nice scrub solution and I love the results. I have a well-cleansed face and the feeling is so refreshing, and that clean feeling, oh well, it's great. The results I've got is a deep cleaned pores, a brighter and visibly clearer complexion and it doesn't cause break out. I like it.
This is exactly what I'm looking for in a face cleanser. It gently removes any impurities and sloughs off dead skin cells, and unlike most other exfoliating products, it doesn't leave my skin dry and flaky. Instead, my skin feels soft, smooth and clean. This is perfect if you are looking for a gentle, soap-free, exfoliating cleanser that is suitable for all skin types.