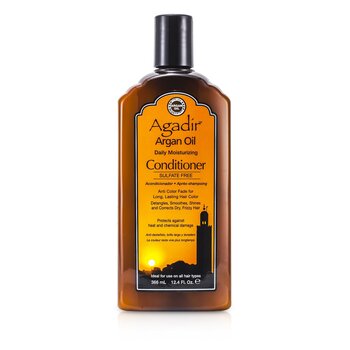 Agadir Argan Oil Daily Moisturizing Conditioner (For All Hair Types) 355ml/12oz
A lightweight, anti-color fade conditioner
Formulated with 100% pure & certified Argan oil
Contains Vitamin E, anti-oxidants & unsaturated essential fatty acids
Blended with Omega-6 & 9
Helps detangle & brighten dry, frizzy hair
Shields hair against heat & chemical damage
Infused with protective sunscreen to repair & consolidate damaged hair
Reveals smoother, nourished & healthier hair with brilliant color
Ideal for all hair types
Free of sulfate & parabens
NZ$
55.90
Free Shipping Inc. GST

Add to cart
100% GENUINE Products.
FREE SHIPPING by Post Haste with tracking. Delivery usually takes 5-10 days. Signature is required upon delivery



30 days money back guarantee. If there is any problems with the products please send us an email and we will provide a solution to you, guaranteed.

We use PayPal to securely process payments including credit card payments.
Your purchase is protected by PayPal buyer protection. If you don't receive the products you ordered you can claim your money back.

We also accept direct bank deposit. We bank with ANZ Bank New Zealand. Please contact us for bank account details if you would like to pay using this method.
Argan oil is getting popular nowadays and this is not a surprise since it offers lots of benefits to the skin and hair. This Agadir Argan oil offers the same benefits and more. The bets thing about this product is it contains no paraben or other harsh chemicals.
It is a must that we protect our hair from harmful chemicals. That is why experts recommend using preservative free and pure argan oil shampoo. This Agadir product is 100% argan oil that protects the hair from the sun and provides nourishment to it.